Clothes Dryers
Clothes dryers are an integral part of modern living — they add ease to a routine that once took an afternoon to complete. A dryer that is unable to dry clothes puts a kink in your routine and sucks up your time, energy, and money if you have to go to a laundromat. If you notice changes in your dryer, it may be a great time to have it serviced.
Common problems in a dryer can include:
Your dryer is too hot.

Your dryer won't turn on.

Your dryer won't turn and tumble.

Your dryer is not properly heating.

Your dryer is too noisy.

Your dryer isn't properly drying clothes.
If you're in a position where you can't call an appliance repair company or if you want to try a couple tactics on your — because it's not an emergency — there are simple things you can try.
Most dryer calls we receive from customers are actually issues that they can fix themselves, but we're always happy to help out.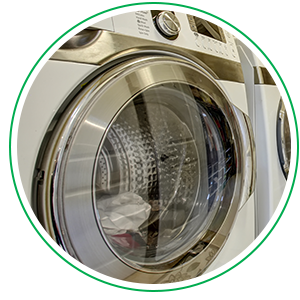 Here are some things to consider or try if your dryer isn't functioning optimally.
If your dryer won't start, check and make sure it's plugged in. This seems silly but it's often overlooked, and oftentimes our appliance technicians just have to plug it back in to get it up and running! The cord can become loose if the dryer moves around or if you have to physically move it, so check that part out first!
If you plug in or check and see if the dryer cord is plugged in and it's still not functioning, check your electrical breaker. Sometimes the power will go out or something will trip, leaving your dryer without power.
When your dryer will run but produces no heat, this could indicate a problem with the thermostat or thermal resistor. You have the option of finding the appliance repair manual and trying to fix it yourself, or giving us a call!
A noisy dryer can set just about anyone over the edge, so check a noisy dryer and make sure it's not just the clothes that are making all the noise. Be sure to fasten all the buckles and zippers, and look for loose items such as change or keys.
For the best efficiency, remember to clean the lint filter.
If you're looking for dryer vent maintenance or dryer repair, at Air Nation, our appliance repair and maintenance services includes clothes dryers.
Call today!